OFFICES
Puerto de la Cruz,
La Paz, next to Hotel Botanico: Avda. Marques Villanueva del Prado 44
Costa Adeje,
Calle Islandia, local 4 CC Teide
TEAM
Agata started the agency independently helping foreign buyers looking for properties on Tenerife and fulfilling the same dream she had a few years ago herself, making this beautiful island home. Very soon selected professionals joined her and formed Agata's Real Estate. Here is a short introduction of the great individuals in our team today: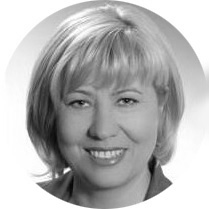 IRINA (DIRECTOR)
Irina Andris gained experience in the real estate field working in the real estate department of one of the largest banks in Germany. After moving to Tenerife, Irina realized that she still had a passion for this sector and joined the Agatas Real Estate team. After several years of experience in our agency, Irina advanced to be the current manager of Agatas Real Estate.

Irina is a russian native with german heritage, Irina is fluent in both Russian and German and has considerable English and Spanish skills.
NICOLINE
Nicoline Al-Homci is the coordinator of our office. She answers most of the phone calls and responds to initial enquirers with the best possible advice. She makes sure our office is always open to clients even when you come without an appointment. Previously she studied Russian and worked as an assistant at a law firm and administrator at internet company. You will be welcomed by her warm smile and professional assistance.
Nicoline has lived in Germany and Cuba. For almost 10 years now she lives on Tenerife. She speaks fluent Spanish, English and German and is refreshing some basic knowledge of Russian as well.

JANE
Jane Howard is a welcome addition to our agency, bringing a vast knowledge of real estate on the island. She previously worked as an estate agent for an established agency, Clear Blue Skies, in Tenerife South. Five years ago she decided to move to the north of Tenerife and specialize in the real estate of this area. Jane has more than 30 years experience living and working in Tenerife and has a great knowledge of the island, particularly in north west Tenerife. She has worked in hospitality and sales for 27 years in Tenerife. Her clients especially appreciate her after sales services with local builders, merchants, authorities, licences, lawyers, that are extremely helpful while intregating into the local community
Jane is originally from Britain but has lived in Germany as well. She speaks
English
and
Spanish
, and understands some
German
and
French
.
BERTIE
Bertie Nijland recently joined our team and has significant experience as a real estate agent on Tenerife. Bertie has been working for a well known agency (Clear Blue Skies) in Tenerife South, but he has fallen in love with the lush north side of the island, where he lives now. Bertie is a real expert in Tenerife North properties, he has important and knowledgeable advice for people who decide to move to this charming area.
Bertie is Dutch and speaks
Dutch
,
German
,
English
and he is always improving his already considerable
Spanish
skills.
ANDREA & PETER
Andrea and Peter are agents responsible for the Tenerife South area. they are extremely enthusiastic and willing to listen to all clients wishes. Clients especially appreciate their professional attitude.
Andrea and Peter are origanally german and austrian but decided to settle down on Tenerife long time ago. They speak English, German and of course Spanish.
AGATA (FOUNDER)
Agata Kowalczyk is the founder and the owner of the company. She gained her professional real estate experience in the Caribbean, where she was working as a realtor, nevertheless she was personally passionate about properties while still at the University. Agata graduated with a masters in economics - finance and was first working as a tax advisor in Poland. Her background helped her understand the paperwork and taxes to purchase property. These insights helped him understand the process and taxes for property sales/purchases in Spain and thus create a real estate agency that has established itself very quickly. She started working alone, later opening an office in the north of Tenerife, her team growing rapidly and in a few years opening a second office in the south of the island of Tenerife. These days Agata is writing a book on the real estate world.
Agata has lived in Poland, Austria, Switzerland, Germany and St.Maarten. She speaks Spanish, English, German, Russian, French and Polish.
To give our clients the best service we kindly ask you to make an appointment.
Please let us know prior to your arrival and we can open our office for you any time of the day, evenings, on Saturdays and Sundays/ National Holidays.